We are a certified labour employment services agency registered in 2012
We have an extensive network of skilled labour resources, and are always ready to serve both foreign and domestic markets
Since inauguration, we have supplied more than 60,000 employees jobs in Thailand, Japan, and domestically in Myanmar
Main Responsibilities and allegiance to dignity of Labour Asia Services Co., Ltd
Dignity of Nation
Dignity of Myanmar Nationality and religious.
Dignity of Labour Asia Services Co., Ltd.
Moral of Labour Asia Services Co., Ltd.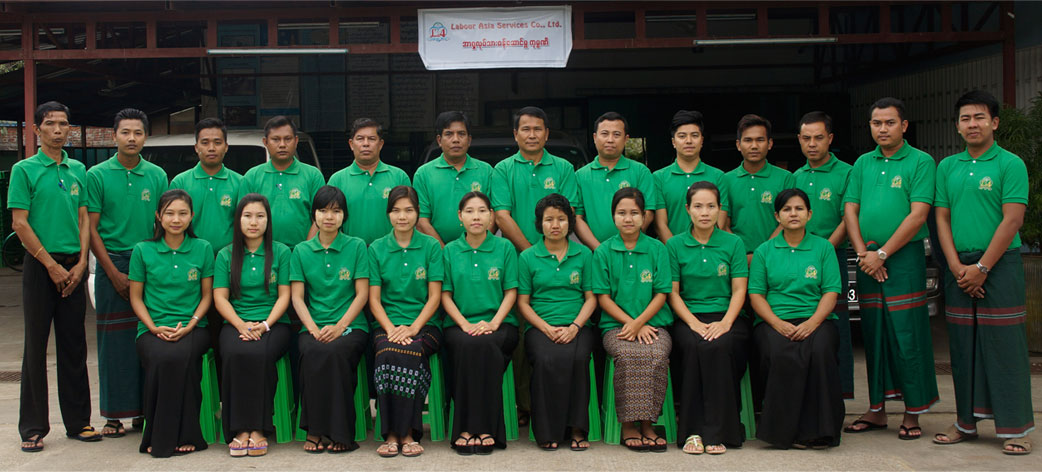 Our Mission and Vision
We aim to offer the most efficient labour supply services for our clients by delivering only the best employees with the least cost possible in a short time
We dream to become the top labour supply services agency in Myanmar eventually serving the whole Southeast Asia Region labour market
Belief and objective of Labour Asia Services Co., Ltd
Myanmar citizens to be worked in dignified manner in Foreign Countries
Myanmar citizens to be learnt knowledge and techniques in foreign countries
Each of Myanmar foreign employees to be achieved higher living standard and to support Union of Myanmar to be developed and modernized Nation
Objective of Labour Asia Services Co., Ltd
To gain and succeed upon systematic management and working procedure.
To able to perform development of human resources.
Development of human resources to be used again Myanmar Nation and citizens.
Introduction
Throughout the history, the society where we live has been developing and human resources are the ones which play influential roles in the present world.
It is undeniable that the world requires strong workforce in the same way people are in need of proper job opportunities.
Aim of the Company
Our company aims to offer the best service for the society by searching jobs, with the quickest time and the least expense, for everyone who wants to work.
Recruitment of Employees
Our company representatives travel to different regions in Myanmar, and build-up the long-term labour supply networks via job fairs, headhunt interviews, etc.
Based on the requirements, our workers can be classified into: 1) Unskilled labour 2) Semi-skilled labour, and 3) skilled labour
Our company aims to reduce the human trafficking business by providing legitimate work opportunities to everyone in Myanmar

---
Organization Chart